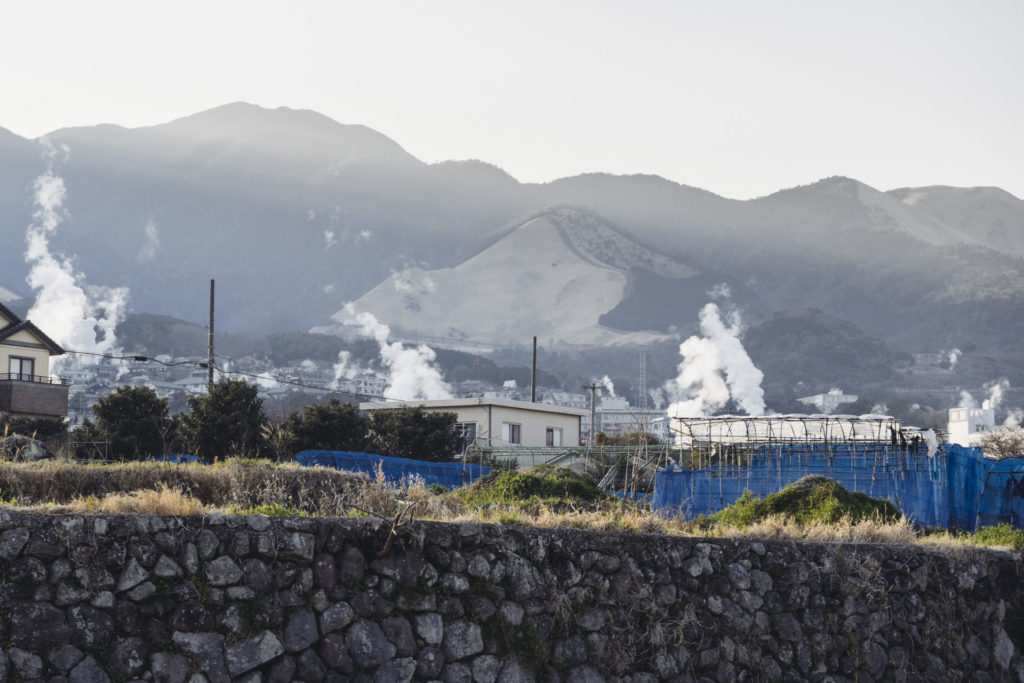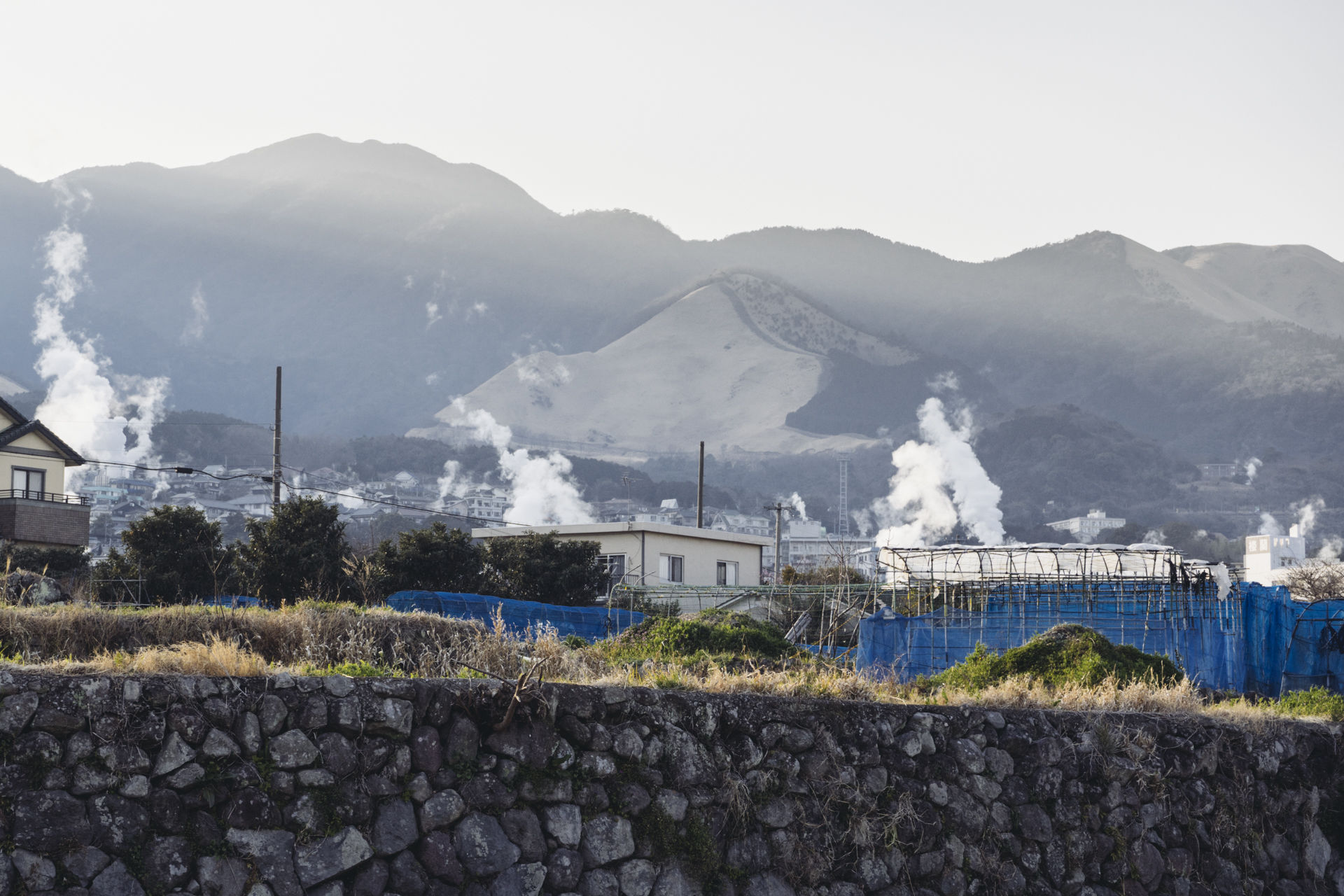 A few days ago I stayed in Beppu (別府), a town in northern Kyushu, famous for its thermal springs called onsen (温泉-or hot spring). The onsens are public baths where we bathe naked in waters around 40 °c. Most of the time men and women are separated but there are some mixed baths. In Beppu, you can find two kinds of baths: in the center of the city, the lightest baths, less charged with sulphur, ideal for a daily swim, to the south of the city, in the mountains, there is a much more sulphur water (the smell is felt Indeed greatly!), and since they are more difficult to access and the water has stronger properties, they are suitable for exceptional excursions instead.
How to enjoy a bath in an onsen
When taking a bath in an onsen, there are several rules to follow. First of all, you have to get naked from the locker room. Then it is necessary to wash completely, body and hair, in front of a mirror, on a small stool. Once rinsed, one can then enter the bath, or one of the baths as they can be numerous, taking care at the high temperature that can surprise the first time. We will avoid dipping his towel in the water, just as we will avoid putting his head under water. We use a towel of a ridiculous size to dry, but also to soap if desired. To water the skull, you can use a small pond that can also be used to spray before entering a bath if you are afraid that it is too hot.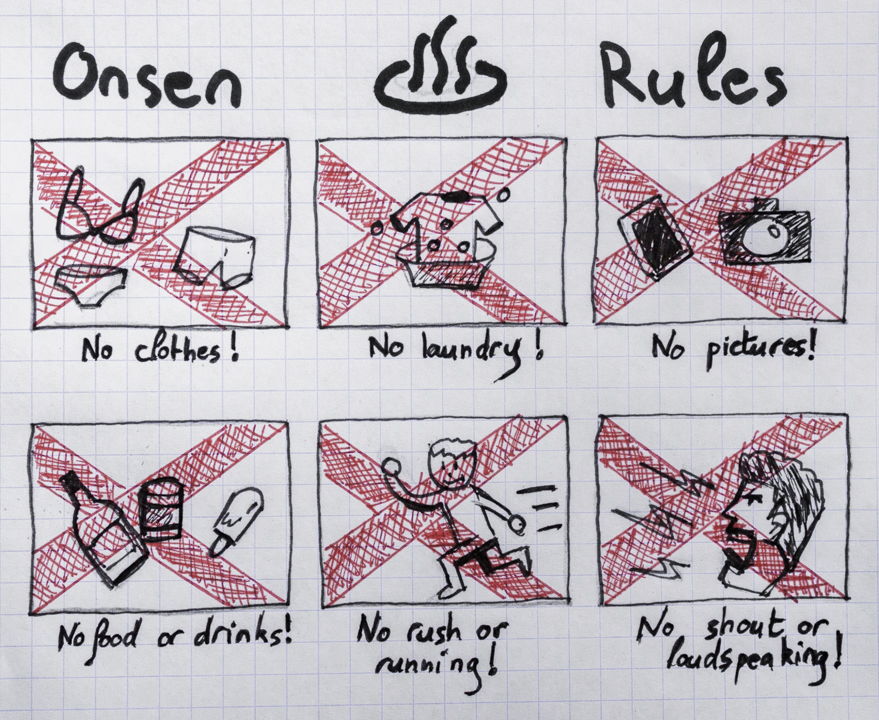 Normally, it's a quiet setting. We do not speak loudly, we avoid too much to look at each other at the level of the belt. It is also one of the best places to cross the gaze of a stranger and start an unannounced discussion. It happened to me to make good meetings in an onsen: being the only white in the bath generally, the Japanese are often curious to know where I come from and how I found myself here.
It may sound weird at first glance, but the onsen is a real place of conviviality. of relaxation above all, but you can meet his neighbour, the seller of the local grocery store, the chief ramen of the street next door, etc. It is a common space where everyone comes for the same purpose and ends up in the same outfit. It is Impossible here to know whether or not John Doe is rich or poor, in fashion or in the Poissonnière industry, well put or dressed in fripes. It is a place of relaxation where you can forget the prejudices and sometimes exchange freely with people you would never have imagined approaching in the middle of the street.
In addition to its soothing virtues for the spirit, the natural waters of the onsen often have medicinal properties sought to treat ailments as diverse as rheumatism, skin problems, muscle aches, a little in the way of cures Thermals that can be found in France. It is therefore interesting to learn about the type of water that can be found at a particular place.
There are iron, sulphur, alkaline or acidic waters, and sometimes even slightly radioactive (!). To each type of water its curative properties. In Beppu, it is above all sulphur water, in connection with the volcanic activity surrounding. To learn more about the therapeutic properties of the onsen, I invite you to read this article on nippon.com.
Given the ubiquitous nudity in these places, it is very complicated to make pictures of the interiors, and the exteriors generally have little interest. I was able to take some pictures of the one from the hostel where I am currently working on Shikoku (Resort Genryu No Sato of Shimanto River-四万十源流の里の桜). You will be able to see what a simple onsen like the type of one can find in the center of Beppu for example.
---
Tsuru no yu
On a trip to the mountains of Beppu, not far from its famous hells, I stopped in Myoban (明礬) and I walked in the mountain to finally fall on a "wild" onsen called Tsuru no yu, built I do not know when by the local inhabitants who always come Relax on a daily basis. The atmosphere is very different from a classic onsen: here, everyone knows, speaks loudly, laughs at the spread, some even smoke in the water (taking care not to bring down the Ashes in the water). Most of the people I met here were well over sixty, but I managed, with my Japanese rudiments, to exchange with them.
I was offered an orange from the corner, I was invited to go in the bath (naked in the mountains so), but I was also made to understand that they had their own rules. We do not go on the wrong side of the bath, we rinse before because it is impossible to really wash here, and we stay as long as we can in the hottest water in which I have ever entered.
It was a rather unexpected and exceptional moment in the sense that I didn't think I would fall on it, nor bathe in the middle of nowhere with perfect strangers, let alone laugh so much with them.
This bath is mixed according to them, but I have of course not crossed any woman in the corner. They made me understand that they would like it to change, but it does not seem to be to everyone's liking…
---
During this excursion, I also took the time to taste a speciality of the area: the Onsen-tamago (温泉卵), in other words, egg cooked slowly in the vapors of hot springs. Why an egg? I imagine it's fitting with the ubiquitous sulfur smell in the corner and that cooking meat would have been much less appetizing. One thing is for sure: it's melting, flowing, really delicious!
---
To conclude
To conclude, I would say that with ramen, noodle soup which I will talk about in a next article, the Onsen is the main reason for my love for Japan. I think these relaxation areas contribute to the legendary longevity of the Japanese. They contribute at least to their daily well being and I intend to enjoy it during the rest of my stay…