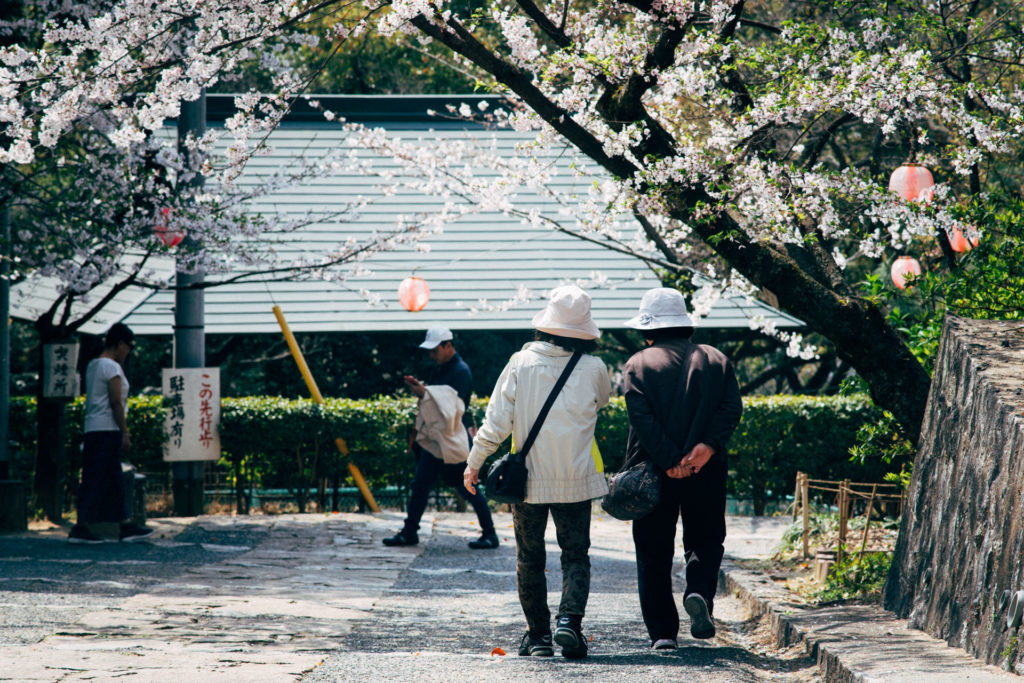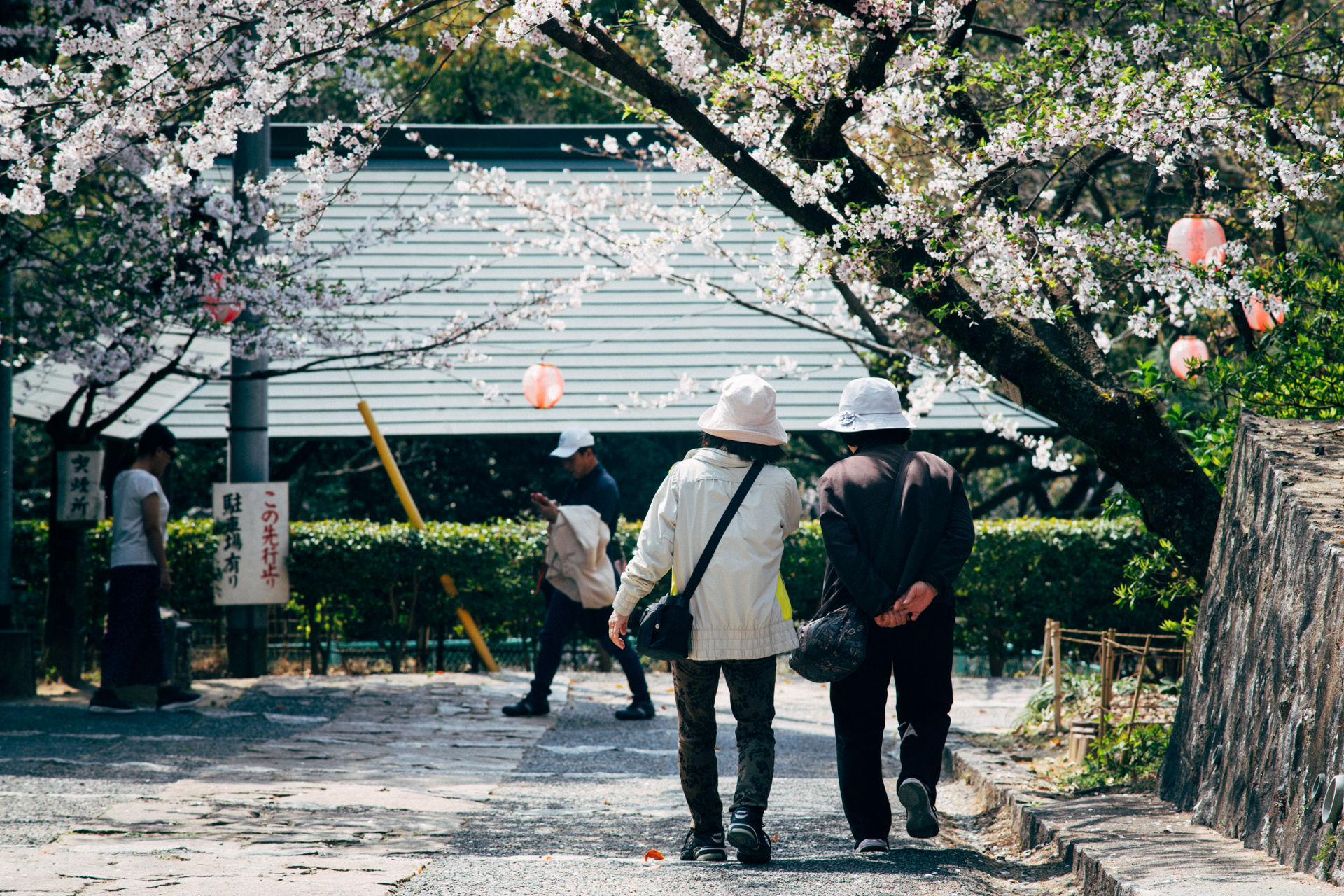 At the end of my stay on Shikoku, and just before I went to Osaka, I made a four-day stop in Okayama where friends of my Japanese teacher hosted me. So I have a lot to tell about this short but intense stay.
Solo walk in Kurashiki Bikanchiku – 倉敷
When I explained to Aoki-san of Genryu No Sato that I wanted to go to Okayama, he instantly told me about Bikanchiku, a historic district of Kurashiki, famous touristic place located at 15 minutes from Okayama station.
In the small traditional streets we can meet a lot of tourists but also couples who came especially to take wedding photos. These are followed by a bunch of photographers who make them pose in various emblematic places, dressed in traditional Japanese suits.
This could make the area less authentic than it seems but if you take the time, you will always find some typical streets or temples that are not part of the touristical agencies' path.
As I was there during the period of the sakuras' blossoming, there were a lot of photogenic spots. At this time, the japanese people love to take their time and picnic under the cherry trees that bloom only about only ten days a year, heralding the beginning of spring.
I finished my walk with the beautiful Kanryuji Temple, where many people came to gather and pray, enjoying the sun of this beautiful April day. As usual, tourists focus on the main attractions of the city like the canal and sometimes the parks, but the rest of the city is very quiet. This temple is no exception and finishing the day in this spiritual place was the best end I could expect.
---
Hanami: cherry blossoms and picnic
About sakuras, to picnic under the cherry blossoms has a name : hanami, or "look at the flowers". During my stay in Okayama, I stayed with the Kubos, friends of my japanese teacher who very kindly offered to host me. I'm glad I helped Junko to prepare the lunch's bento.
We then went to the park Koraku-en, located along the Asahi river, where a large field of sakuras was waiting for us. This is my fifth trip to Japan but this is also the first time I could celebrate hanami. Sharing it in such good company and in such a park was a real pleasure. Thanks again to Junko and Kiwame for this rare moment !
In this large park, you can find the Castle of Okayama, famous for its color : black. It is thus known as U-Jo or Raven Castle. The contrast with Himeji's one, even more famous because of its immaculate white, is clear. Given the small number of dark-coloured castles in Japan, I think that Okayama Castle is the one that I prefere.
---
Kubo Kiwame
I haven't talked about it yet, but Kiwame is a stone sculptor. He expresses his geometric and precise art by sculpting granite blocks and never assembling anything : each piece comes from a single block of stone. This skill is unique in Japan.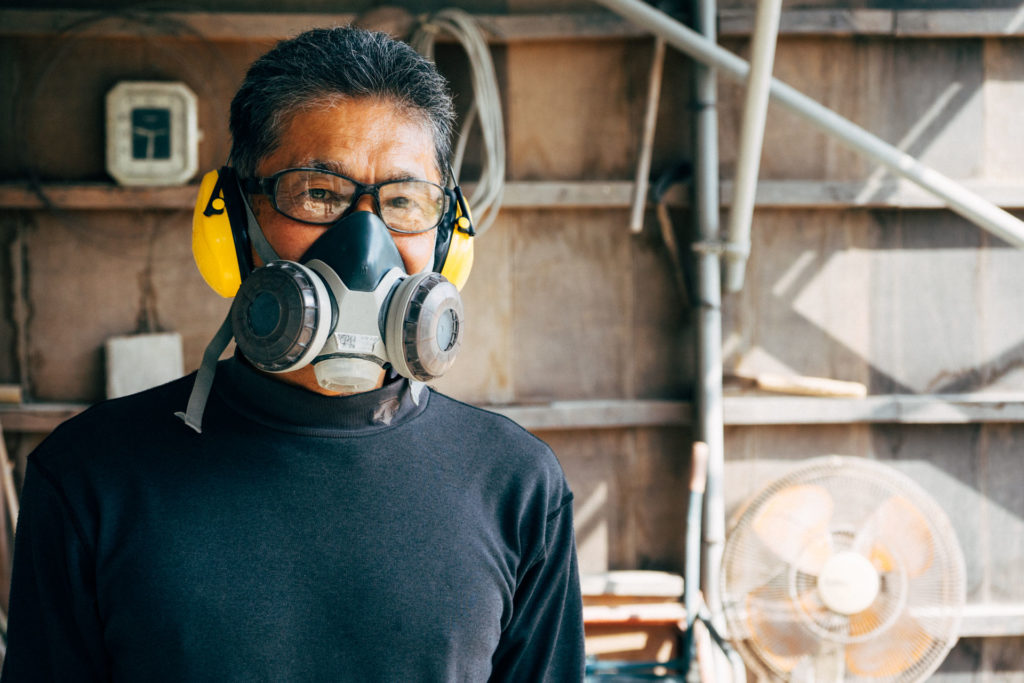 It was difficult for me to render the beauty of his works with my camera because you can only realize their real beauty if you can manipulate or move around them. The main difficult point in making such works, in addition to the precision required, lies in the way of carving deep in stone, in difficult places to access and that you can't see from certain angles. The result is an art full of contrast and shadows that evolves throughout the day according to sunlight.
I was lucky enough to visit his workshop, located in the mountain in the north of Okayama, basically a quiet place far enough from the city. There, Kiwame settled in a stone quarry where he could directly find the raw material he needs. The place reminded me of the south of France, towards Aix-en-Provence. I understand why Kiwame prefers to work directly here rather than in a small workshop in town. We took advantage of the good weather to explore the moor just behind his workshop, a quiet and inspiring place.
Kiwame showed me the preparatory drawings he makes on millimeter paper before getting his weapons : a sledgehammer and then a pneumatic chisel. Even if we can see that everything is calculated in advance, the precision required when cutting the stone to get such a perfect result impressed me. Everything seems to be a question of balancing strength and self-control, not to mention patience, some achievements can take several weeks.
If you're interested in Kiwame Kubo's work, please follow the Instagram account and website Junko has created for him, and contact them if you want to buy one of them!
---
Pingu
Finally, a little think about Junko who is a big fan of one of my childhood heroes : Pingu! Their house is full of little penguins hidden everywhere… What would Japan be without a touch of kawaii?
I'm really thankfull to Junko and Kiwame who welcomed me as a member of their family during these few days. We talked about music, art, ate sushi prepared by ourselves, I learned to make my own soap and improved my recipe for ramen noodles… This short stay in Okayama will remain engraved in me forever thanks to this couple who have an extraordinary sense of welcome. I hope to meet them again one of these days !